India is fascinating but also a chaotic country. I can't count the number of people who tell me they are afraid to travel to India. I have already made a list of prejudices about India. You can compare it to your own concerns.
Today, instead of making a list to answer the fears of some, I preferred to make a list of the 10 reasons which will make you take a step and to stay in India.
I- The people: first reason to travel in India




India is the second most populated country in the world after China. There is an enormous wealth in this country. It's these significant people.
There is a soulful diversity in Indian society due to religions, caste and social economic levels. But, there is a common element connected to these billion Indians, their kindness and generosity. A lot of travellers say when they were in trouble, there was always someone who came to help them.
India lovers will always tell you, they are coming back for the locals. I remember a time when a Mexican client sympathised with the children from my neighbourhood. The next day, she was invited to all the houses in the residence to drink tea or eat local dish, poha.
This is the most beautiful treasure you will feel during your stay in India.
2- Cinema
Everyone knows Bollywood, the most popular film industry in the world. In the article on misconceptions about India, I discussed the different movie industries that exist in India.
Today I'm going to focus on the experience of seeing a film in India. Forget all your benchmarks for watching a film in the West. Here, the show starts from the theatre room itself as shown in the screen. When the main hero appears, a wave of happiness, claps and whistles will capture the room. When he destroys the enemy, the same thing will happen. That moment of joy is beyond the world for them and that is a must see experience in India.
If you want the best experience, choose a small neighbourhood cinema theatre rather than a theatre in a mall.
3- The train, the best way to travel in India
Travelling without taking the train is like uncompleted travel in India. The train is a observation of life from India.
Don't expect a quiet and peaceful ride. Obviously, it all depends on the class you have chosen. The more you are in the upper classes, the less you will be disturbed. It's a shame to lose the live spectacle of culture in India. By choosing the SL or 3A category, you will have advantage of your trip to discover new things.
People will naturally come to talk with with you. They will share their delicious food with you. Coming back to the first point, you will feel Indians are generous and warm.
Then comes the turn of the street vendors. They go around crazily in the train for the survival. If you go through a city that has a special cuisine, it will be sold to you on the train. In Nashik, raisins are one of the specialties. No need to get off the train, they will sell it to you directly on the train.
Finally, a transgender or a sadhu will pass to offer blessings.
A train trip is a summary of what India will offer you during your entire stay.
4- Cuisine: discovering new flavors during your travel in India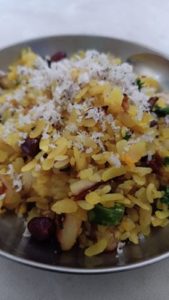 Indian cuisine deserves a full article. I had already wrote about the cuisine of Maharashtra which is for me one of the best cuisines of India compared to the cuisine of Rajasthan.
Indian cuisine reflects its diverse population. But each dish will give you new sensations. Even the dishes that seem the simplest turn out to be pure moments of pleasure.
With Akvin Tourism, we always offer either of street food or local food at thali restaurant. You can't leave India without tasting Pani Puri or Bhel Puri.
A little advice to properly prepare your travel in India, I advise to try adding little pepper or more spices in your meal before two months departure. By increasing the quantity little by little, you will be ready to eat everything once you arrive in India.
5- Mangoes
Mango is the king of fruits in India. It has a special dedicated festival.
The mango season begins in April and ends around July. You will see them everywhere. The Indians love it. India is the world's leading producer of mangoes. They have 1000 types of mangoes identified but only ten are marketed.
For a long time, this fruit was the symbol of royalty. There was even a dispute in the Mughal empire over the mango. In Aurangabad, the imperial garden named Himayat Bagh was famous for its mangoes. One day Shah Jahan, who built Taj Mahal, got angry on his son Aurangzeb because he did not sent him mangoes from this garden.
6- The arts





India is an ideal country for all lovers of the living arts. You will find happiness between Indian classical dancing, music and singing.
Each region has its particularity. Kathakali in Kerala, Odissi in Orissa, Khatak in North India and many others, you will find a dance that will make you move. The same will happen with the chants or mantras. Whether traditional, religious or modern, you will not leave India without falling in love with one of classical songs.
7- Architecture
Ajanta cave
Lotus temple
Temple in Maharastra
Bibi ka Maqbara
Do you like old stones joint with lime or do you prefer modern constructions?
No problem! in India, you will find what you need in terms of architecture.
From caves carved into the mountain to the Lotus temple in Delhi to stone temples built without cement, there is everything in India to delight your curiosity.
There is diversity and ingenuity in India, which is not found in other countries. Do not forget your camera to capture all the places that you will visit and that will make your dream come true.
8- Spirituality in India
India is the only country in the world which has seen the birth of 4 different religions on its soil. This is why many people think that India is a very spiritual country and Indians are believers.
So answer is yes, but there is not the same definition of spirituality in India as in the West. Unlike churches, synagogues or mosques, Hindu temples are very busy all the time. There are songs (bhajans), music to pray to god. Even mosques offer Qawali performances during religious festivals.
Spirituality in India is alive, colorful and can be noisy but interesting. Come and enjoy the energy of this spirituality.
9- Learn to have patience
There is an Indian proverb which says: "Every European who comes to India gains patience, if he does not have it; and he loses it, if he has it." And it's totally true. A trip to India is not like a trip to another country. In India, in addition to discovering wonders, eating well and meeting exceptional people, you will also work on yourself.
Getting around, visiting a place, eating local dish, finding a hotel, all takes so much of time in the land of the Maharajas. For example to travel to Mumbai (Bombay) from Aurangabad, it takes 7 hours by train for 250 kilometres.
The big mistake travellers make who are travelling to India for the first time is to overload their schedule.
Always 'see less to enjoy more'. This should be your mantra for travel in India. Forget the stress and enjoy.
10- The complexity of India
At first glance, we think that India is a fairly simple country to understand and tame. It is not so. As Jean Claude Carrière says in his book "a dictionary for India lovers": "When you think you understand something, then an element comes to flatten your theory". This sentence for me is the best definition of India and allows to understand why the travellers speak about the love for India. Once you have feel it, you will not be able to do well without it.
So you are convinced to travel in India? Tell us in the comments, if you are a lover of India.
Do not hesitate to ask us your questions, we will be happy to answer them. Your travel in India always starts with questioning.