It is now four years since I discovered the Maharashtra state. This one was unknown to me despite two trips to India. Maharashtra is a south Indian state that has Mumbai (formerly Bombay) as the economical capital. It is half the size of France and has the double population.
During these 4 years, I discovered the culture of this state and I had the best live experiences.
How I came to know Maharashtra:
It all started when I met Akash in Taipei on the first of January 2015. He invited me to discover his city, Aurangabad. It has been 4 years since I came to India. Despite the little information I could find on this city I let myself to be tempted.
So I arrived in Aurangabad with Akash in April 2015. I stayed there for a week. During the visit, I discovered monuments that were not mentioned anywhere. Fortifications, palaces, tombs, imposing walls etc. The curiosity for these monuments had just stung me. So I decided to come back to this area the same year. I stayed longer and I gradually fell in love with this city. To know more about my journey and my discovery of Maharashtra you can check this page.
Famous historical characters
When I became interested in Maharashtra, I came across some famous and unknown characters but with remarkable stories..
Malik Ambar: the slave who became a king.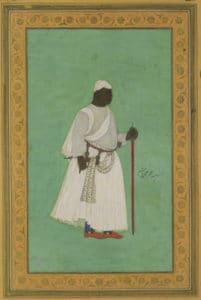 Malik Ambar arrived in Maharashtra as a slave but his intelligence and tolerance propelled him to prime the Nizams of Ahmednagar. He built the city of Aurangabad and was the nemesis of the Mughals who never managed to beat him. To know more, you can read this article.
Chatrapati Shivaji Maraj: the most famous of the Maharashtrians
Shivaji was a warrior and a king. he built an early empire in an enclave on the territory of the sinking Bijapur Sultanate. He was crowned king in 1674 in his fort of Raigad. Today he is the most respected historical figure in India.
Anandi Gopal Joshi: first female doctor of India.
Born in a small village in Maharashtra, she was married at very young age by her parents (9 years old). Her advocate husband fought for women's right forced her to read and learn. It is at the loss of her baby when Anandi got the desire to become a doctor.
Savitribai Phule / Jyotirao Phule: united by the right of women and low castes.
This couple fought all their life for the education of women and low castes. They founded the first women's school in India in 1848. In 1873, they created an association for the equal rights of low castes. We work with an NGO that helps women through the work that bears the name of Savitribai Phule and her legacy. More information here.
Tarabai Shinde: one of the first feminists in India
She fought all her life against patriarchy and castes in nineteenth-century India. She published a text called "a comparison between women and men" in 1882. This pamphlet is a direct criticism of the patriarchy imposed by high castes. This text is considered the first feminist text of the modern Indian era. At present, the view that Hindu religious texts are the source of women's oppression continues to shake Indian society.
Mahadev Gobind Ranade / Ramabai Ranade: Politicians and Activists
While Mahadev Gobind Ramade  was a social reformer, judge and author, Ramabai Ranade was fighting for women's rights. This couple was united by their struggles for the independence of India and the free access of women to education. Ramabai Ranade created the first girls' high school following Savitribai Phule's footsteps
Rukhmabai: from divorce to medicine
Because her husband did not respect his obligations and especially thanks to his will, Rukhmabai gets the divorce. Thanks to this precedent, the law was changed and the age of marriage for girls increased from 10 to 12 years. His fame did not come at his expense. She became the first female doctor to practice medicine.
Madhuri Dixit: the superstar
To finish this non-exhaustive list, a little lightness. Madhuri Dixit is an actress of the very powerful Bollywood film industry. She was one of the most celebrated and best paid in the late 80s and 90s.
She has been awarded 6 filmfare awards (equivalent to the Oscars) and holds the record for the highest number of nominations for the filmfare award for best actress (14 times). In 2008, she received the Padma Shri medal, the fourth highest country award.

Religious tolerance
All the people we have just mentioned have, for the most part, extreme tolerance. This tolerance is one of the cornerstones of Maharashtra culture. The example of this tolerance is the presence of 5 important places for the 5 religions that participated in the history of the country.
Nashik: The sacred Hindu city
In this other article, we have already mentioned the city of Nashik. This mythological city is attached to Ram. During his exile from the kingdom of Ayodhya, he stayed here and his fight against Ravana began here. In the Ramayana, Nashik holds a central place in the epic of Lord Ram, his wife Sita and his brother Laxman..
Khultabad: the center of Sufism in the fourteenth century
During the relocation of the capital of the Delhi, Sultanate from Delhi shifted the capital to Dautlabad, many Sufi saints came to settle in this small village located 4 kilometers from the Ellora Caves. Khultabad thus became an important spiritual center. In fact, it is still considered an important place of Sufism in India. The celebrations in December attract more and more people (between 200,000 and 1 million).
Ellora: 3 religions united in sublimation
The Ellora caves are world famous especially for the number cave 16 which is the largest monolithic monument in the world. In Ellora, there is a rare element: the presence on the same site of 3 religions, Buddhism, Hinduism and Jainism. Their cohabitation was peaceful and also allowed creative and artistic emulation. That's why it's the most beautiful and rich cave site in all of India.
Nanded: one of the fourth sacred cities for Sikhs
Nanded is a small town, east of Maharashtra. It has the tomb of the tenth and last guru of the Sikhs, Guru Gobind Singh. This religion was born in Punjab. His last guru was on a trip to meet the new Mughal emperor to come to terms. He waited a long time but in the meantime the new emperor died. Gobind Singh died in Nanded in 1708. Since then it has been a place of pilgrimage for all Sikhs on the planet.
One of the secrets of Maharashtra is its cuisine
The cuisine of Maharashtra is very diverse and everyone can find it. We have little or no spicy dishes like Pav Bhaji. It is a mixture of tomato and aromatic herbs. It is traditionally eaten with a brioche bread.
Breakfast is served with a plate of Poha. It is a flat rice dish mixed with curry, sweet onions, peanuts. There is nothing better to start the day.
Also let yourself be tempted by a Vada Pav. It is a kind of generally spicy vegetable burger made from potatoes. Otherwise you have the Bhelpuri. It's more consistent with its mix of rice blast of tomato onions and tomato sauce.
You will easily find a dish to your taste.
It is common to offer a "finger bowl" in the restaurants which is a bowl of hot water with lemon to rinse hands after the meal.
Tourism in Maharashtra
With its impressive and diverse history, Maharashtra is the ideal state to discover the greatest variety of culture in the country. You can visit forts, palaces, beaches, museums, temples, mosques, holy places. You can do eco tourism, trips to nature reserves. Or if you wish you can relax on the sandy beaches of the south. All this is possible in one state. Moreover, you will not come across much tourism, not at all for some places. Maharashtra is a forgotten state of tourism.
If you want to discover this state that capsized my heart, do not hesitate to contact us so that we can give you all the necessary information.