India is a mystical and enchanting country. There are many misconceptions about this country. After several conversations with our customers, we decided to make a list of 10 misconceptions about India.
One of the most common misconceptions about India: it's a poor country
Many people say they do not want to come to India because all Indians are poor and country itself is poor. In 2017, India became the top sixth economy in the world. Its GDP exceeds than France and is close to the United Kingdom. In 2015, it was the most dynamic economy in the world that grew more than 8% in a year ahead of its great Chinese rival. To finish with the macroeconomic figures, in 2017 India became the third country with the most billionaires. They were 97 living in India with a cumulative fortune of more than 226 billion dollars.
Nevertheless, India remains the country with the most poor in the world. The poverty rate in India is 13.4%. In absolute terms, this represents more than 170 million poor people (Source: World Bank). The report also notes that the situation is about to undergo a major change in the coming years.
So India is a rich country with a large population of poor people.
Second misconceptions about India: all Indians are Hindu
Hinduism is certainly the most important and majority religion in India but not all Indians are Hindu. 80% of Indians are Hindu, 14.7% are Muslim, 2.3% are Christian, 1.7% are Sikh, 0.7% are Buddhist and 0.6% are Jain. There are even a small communities of Jews in Kochi.
Moreover, not all Hindus are Indian. There are Pakistani, Nepalese, Sri Lankan, Malaysian, Indonesian, and even Singaporean Hindus.
All Indians speak Hindi
There are three words that are close but that has different meanings. As we have seen, Hindu refers to a person who practices Hinduism. Indian is the nationality of people born in India. And finally, Hindi means the mostly spoken language of the country. This is certainly not the common language of all Indians. Only 41% of Indians have Hindi as their mother tongue. Each state has its own language and there are 24 official languages ​​in India. This figure represents 10% of the number of languages ​​present in the country. Indeed, there are more than 234 mother tongues in the country of which 122 are considered important.
Always need to carry medicines
It is quite common to see travellers coming to India with their medicines from their country. We are not talking about anyone who has a long-term treatment but basic drugs for all types of ailments. From paracetamol to anti-diarrhoea drugs. Some even have a big box of medicines with them.
It takes space and it is not necessary because there are pharmacies on every street corner in India and medicines are cheap. Also, India is known for having lots of doctors so you can rely on them completely.
Indians are thieves
We were very surprised when a client told us that she had been told to pay attention because in India ´all Indians´ are thieves. She was so convinced of this fact that she asked us if she could leave her shawl in the car. If she had to lock the door of her room (in a home-stay). So as everywhere, there are thieves and you have to pay attention in every public place but India is not full of thieves. Pay attention to your business in the same way as in your country neither more nor less.
All women wear saris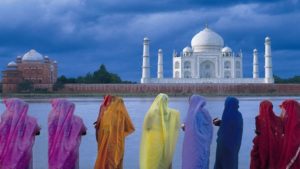 This cliche is started by the tourist sector which uses the typical photo of the woman in sari. Sari is not the only garment of women in India. The way of wearing sari depends on many factors. It depends on the region, the caste, the event and states. In a state like Maharashtra, in small city like Aurangabad, Mostly sari is majority wearable attire but in Mumbai, the sari is worn only for special occasions.
All Indians do Yoga
It's a bit like thinking that all Chinese do Kung Fu. Yoga is not a universal practice in India. Certainly since 2014 and the creation of a Ministry of Yoga, the practice is growing. It is common to see public parks yoga classes early in the morning. Yoga still has a religious connotation and therefore some refuses to practice it.
Marriages are forced
The theme of marriage is a subject of discord between Westerners and Indians. The problem is that for Westerners an arranged marriage is a forced marriage. A marriage is forced when one of the "spouses" is married against his/her will. In India this is not the case in the majority of cases. 75% of Indians prefer to use arranged marriages (source: UNICEF). This choice is dictated by tradition and it is above all the parents' duty to ensure that their child does not end up alone or end up in a bad family. It is by benevolence that they decide the future of their loved ones. The arranged marriage constitutes 90% of the marriages in India (Now days it is declining compared to few years ago).
Indian cinema only has Bollywood

Bollywood is considered by many to be Indian cinema par excellence. Except that Indian cinema is more than Bollywood. Here are some explanations:
Bollywood is the largest film industry in the world. The majority of the films are produced in Mumbai (former Bombay hence the name). The films are in Hindi, the majority language of the country. Bollywood films are for the most part upset romances between the two main actors. A happy ending is always expected. In recent years, Bollywood movies are modernising and it is common to see beautiful movies. For example Bajirao Mastani (video above), Tumbbad, Neerja, Manikarnika the queen of Jhansi.
Tollywood: It's the film industry of South India. Movies are usually action movies. Here, there is little concern for the truth of the situation. The main actor is a Marvel type hero who is capable of all the exploits.

Marathi Cinema: This industry is about cinema of authors who address the problems of society in India today. The films come from the state of Maharashtra as Bollywood but they are shot in Marathi. It is the official language of this state. There are Marathi movies that are just masterpieces. Like the great Katyar Kaljat Ghusli (see trailer).

This cinema is the most diversified of India in its themes, the tone used and the differences of types of films.
There are some who got represented in international festivals. Like Dashkriya which was selected at the Cannes Film Festival or the Berlinale, the Berlin Film Festival.

The traffic is chaotic
Well, it's a bit true. For Western eyes, the circulation in India is chaos. The rules that apply in India are quite different from those in Europe. But we can not say that it is a chaos because the number of accidents is quite limited. We would say, it is a organised chaos which is understandable by lots of people.
Extra: a guide can show all India
India has an area of ​​5 times France. It is impossible for a guide to know everything. In Rajasthan, you will find very good and very competent guides but they will not be able to make you visit Hampi or Kerala. If you decide to take a guided tour in India, always choose local guides. Only they can make you discover hidden treasures of their region.
We are specialised to show offbeat places in Maharashtra and we can make you discover this wonderful state. See our tours here.
What do you think about this list of misconceptions about India? Do you think we forgot something? Tell us on comments