A first trip in India is always something special. Indeed, this country is so unique that the first trip to the Indian subcontinent will forever mark your memory. Today, we have a list of things which are must to do, we think. It's not a list of  monuments to visit but only ideas to try to feel the Indian spirit and culture.
1-Travelling by train: mandatory during your first trip in India
We know that for a short trip (less than 3 weeks), transportation by train can be difficult. Indeed, trains are long and very often not on time. Despite this, travelling by train and especially travelling overnight is a unique experience. That's why, we organise a train trip during our tours in Maharashtra.
The train is not only a transportation system, it is a place of life, exchange and meeting. It is also the place where you learn to enjoy the moment. When you talk with people on the train, you only have the time to get to know them, share, exchange. When you reach your destination, you say goodbye and it's over.
Another thing that is extraordinary in the train is the quantity of street vendors. One will offer you chai (black tea spices with milk), samosas, candies and also jewellery, toys for children etc … It is a shopping centre at your seat.
If you can spend a night on the train, do it. From 8 pm, a ballet is put in place, the seats are converted to bed, the passengers prepare to go to sleep, there are two more benches on the top also. A show to see before sleeping. An amazing memory for your first trip in India.
2-Drink chai: a rediscovery in each region
The chai is the national drink in India. Whether you are invited to a house, whether you are in a shop, you will always be offered a cup of this spicy black tea with milk. I remember one of our guests who made friends with the neighbourhood kids. Everyone invited her to visit their house. When she came back, she told us that she had drunk 5 or 6 chai and had to refuse many more. The chai is a social thing in India.
You will be surprised during your first trip in India, because when you change the region the chai, like the thali, changes its taste. Each region has its own preparation. It will have more cardamom in one area, more ginger in another, more milk in a third. That's why drinking chai in every region is an experience to live.
Let us know in comment, your opinion on each chai and which region is the best.
3- Visit temples: mandatory for the first trip in India
India is a spiritual country. It is the birth place of 4 religions( Hinduism, Buddhism, Jainism, Sikhism) and almost all are present in the country these days.
Visiting temples is an important part of a trip in India. Each religion has its own ceremonial and access conditions. In a Sikh temple for example, men have to cover their heads with turban.
Some temples are forbidden to non-practitioners.
If you decide to visit temples, there are some rules to follow.
Dress required: it is rare that you are forbidden entry to a temple because of your outfit. On the other hand, if you wear a tank top and shorts (for men or for women), you risk getting the reproaching looks of the people. In addition, some parts of the temple may be prohibited to you including that where the statue of the god resides.
Respect the places: do not forget that you are in a spiritual place. Be discreet and respect the written or unspoken rules. If you do not know, it's the best to ask.
Watch out for photos: visitors are often reminded that taking photos of people without their consent is prohibited and punishable by law. In general, validated the fact of taking photos by a manager.
4- Try a home stay
Sleeping at the home of an Indian family, many dreams but the reality is sometimes different. Before wanting to sleep at home of someone´s else, it's good to know what you want from this experience to bring you there.
When we created this accommodation, we wanted to create an interaction between the host family and the traveller. That's why we offer the evening meal served in the living room at the same time as the family.
If you want to be independent for the evening meal, at home it will be complicated compared to our concept.
This is why it is best to determine the limits or your needs to fully enjoy the experience.
5-Negotiate prices
For that, we do not worry too much for you. From the moment you go to buy something you will be forced to negotiate.
Here are some simple rules to negotiate well in India:
Trade: In India, as in other countries, there is a difference in market practices. A good or a product has no fixed price but a fluctuating price compared to the buyer. This is why an object can be announced at several prices.
An Indian price: it's the rate that a native will be able to buy a product or a service. You can come closer to this rate but don't expect to reach it. But it can serve as a basis for negotiations.
The obligation to buy: there is never any obligation to buy even if you have negotiated the price for one hour. If you can not agree, leave without remorse.
Remain courteous: it's a golden rule. If you want a good price, you have to negotiate with a smile. Make jokes, laugh are the best weapons to have a good price.
The price: before starting to negotiate, evaluate the object and especially fix your maximum purchase price. If you do not arrive at the desired price, you have two possibilities. Either you do not buy the object either if you really like it you take it without regret.
6- The Indian wedding: an unforgettable moment
It is not easy to be invited to an Indian wedding. It's more of luck and chance. Indian marriages are quite different from western marriages. First, because it is the demonstration of family wealth so you must invite as many people as possible. The biggest weddings have reached an impressive number of guests.
If you are invited to an Indian wedding, it is fashionable to come well dressed. If possible in a traditional way. That is kurta for men and sari for women. Do not be surprised if you are invited to enjoy the buffet several times. Food is one of the criteria for a successful wedding. All guests must eat to their fullest even more.
7- Live shows: one of the greatest wealth of India
Everyone knows about Bollywood movies and their dance. This tradition is very old and each region has its style and its scenic art.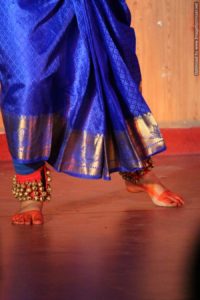 Originally, dances were a religious act. In the tradition, it is said that it was Shiva and his wife Parvati who invented the dances of India.
At present, it has become a living spectacle in its own right.
More than a long speech, we prefer to show you some examples:
https://youtu.be/6_dp8vHnna0
https://youtu.be/ofpr13TzMCw
8-Participate in a yoga class in a public park
It is easier to find outdoor yoga classes in small towns than in big cities.
If you want to attend one of these courses, you will have to get up early. Indeed, these courses are practised at 5-6 o'clock in the morning. They are usually free and open to everyone. Provide ample and comfortable clothes to be able to do all the positions. A yoga mat or a simple towel for floor/comfort for your back.  Look at other participants to see what movements you need to make. Do not force it if it's your first yoga class.
9-Learn to wear a sari: feel like a Indian during your first trip in India
It's something that only women can do. Wearing a sari may seem simple because every day, we can see women doing a thousand activities in sari. But undeceive yourself, wearing a sari is an art and it takes an initiation to be able to wear it properly and comfortably. The best thing is to know an Indian who can teach you. If you go through Aurangabad, we organise sari workshops for free.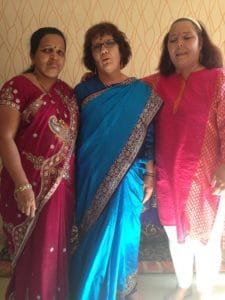 10-Go to the cinema to watch a Bollywood movie:
Attention: for the better experience, you must go to small neighbourhood cinemas. Indeed, in these cinemas, the show is as much in the room as on the screen. The Indians over-react to the plot, scream when a big star appears, boo the villain.
Before each filming, the national anthem is played. It is imperative to get up and not move. We have already seen confusion between foreigners and Indians because the first had not respected the hymn.
Finally, if you're a film buff, you have to watch Marathi movies. Those are usually auteur films with a rather complex story that speaks about the problems of India and with a very fair acting. Very often, these films are subtitled in English. Very far from Bollywood productions.
If you want to experience some of the things we mentioned, we would be happy to help to organise your first trip in India. Do not hesitate to contact us for organise your first trip in India.
Enjoy your first trip in India, and tell us in comment what is your experience so far.