Namaste from Akvin Tourism, we are committed to offer original products and tours that allows you to discover India in a authentic way. Our tours are always focused on an experience that combines tourist attractions and merging in Indian culture. We created Yogatra to experience peace, explore nature, know about historical things in one trip.
Yogatra: Introduction
The word Yogatra is the contraction of Yoga and Athra which means culture. Our meeting with Manish was the starting point of this adventure.
Manish sees yoga as an art of healing. He is always looking for perfection and he wants to make a yoga session a special moment. His involvement in the search for authentic yoga has given us the desire to create something with him. We have gathered our skills to create this unique yoga retreat in Maharashtra.
A retreat for the body and the mind
We want you to discover Indian culture in depth, that's why we go in this yoga retreat's cultural part. It will be on several forms. We will show you historical sites, attend a traditional musical show and see the craft workshops of the region.
The different yoga practiced during the retreat
During this retreat, you will practice several types of yoga:
Hatha yoga:
It is the practice of yoga posture (asanas) and breathing exercises (pranayama) to calm the mind and prepare the body for meditation.
Sivananda yoga: it is a classical form of Hatha Yoga, developed by Swami Vishnu-Devananda. A Sivananda Yoga session begins with Pranayama, heats up with Surya-Namaskar followed by a practice of twelve Asanas (yoga postures).
Restorative Yoga: it is a soft, relaxing and passive form of yoga, which promotes relaxation while holding the Asanas (yoga postures) for a long time, using accessories, including bolsters, blocks, straps and blankets.
Yoga therapy: In yoga therapy session, we focus on healing the body and mind. The teacher combines asana, pranayama, mudra, yoga nidra, chanting of mantra and meditation according to the practitioners' requirement.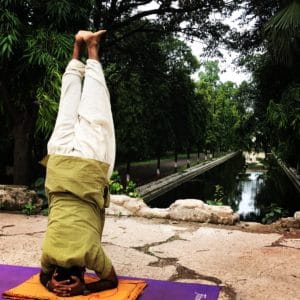 The Aurangabad region: an important place for the history and spirituality of India
The state of Maharasthra is in the center of India. It has 3 holy cities and different sacred sites. The Aurangabad region has always been a spiritual center. From the 2nd century BC, Buddhist monks came to the region to build magnificent temples in the rock. The Ajanta site is known for paintings and carvings which has excavated out of the rock. The religious emulation around these caves helped to build 29 caves. These have been richly painted.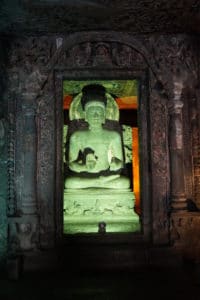 From the 5th century, the site of Ellora was built. Also carved on the rock, this site is exceptional because it has temples of three major Indian religions, Buddhist, Hindu and Jain. This proves the great religious tolerance that prevailed in this part of India. It has the one and only monolithic temple in India.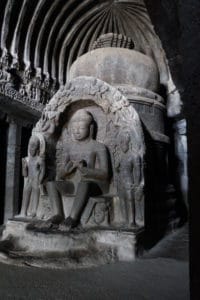 Tolerance is found in Khultabad. This city, created in the 14th century, was the center of Sufism in India. It is still considered the second most important city in India for Sufism. Sufis shared their knowledge with Hindus and also learned from them. Some tombs of Sufi saints are still respected by both communities today.
There is finally the Lonar lake. This lake was created by the fall of a meteorite on Earth. It is the third largest crater in the world and has a salt lake in its center known for its medicinal properties. From the 6th century, men came to build temples around this lake which is still visible today. You will be experiencing much more than this once you travel with Akvin. Come and join us for Yogatra!
Planning of Yogatra
Heures
Day 1
Day 2
Day 3 
Day 4
Day 5
Day 6
Day 7
Day 8
Day 9
Day 10
Day 11
Day 12
06h00-06h30
06h20: Reach Aurangabad, Welcome and transfer to hotel 
Herbal tea
Herbal tea
Herbal tea
Herbal tea
Herbal tea
Herbal tea
Herbal tea
Herbal tea
06h30-07h30
Yoga
Yoga
Trekking in montaine
Yoga
Yoga at Lonar  Lake
Yoga
Yoga
Yoga
7h-8h
Departure 
Free time
Free time
Free time
Free time
Free time
Free time
Herbal tea
Reach
8h-9h
Breakfast
Breakfast
Breakfast
Breakfast
Breakfast
Breakfast
Yoga
9h-10h
Installation on hotel and relax time
Ajanta
Aurangabad
Paithan
Khulbabad /Daultabad
Ellora
Visit NGO and silk factory
Breakfast
10h-11h
Departure ceremonie
11h-12h
11h30: departur to airport
12h-13h
Lunch at hotel
13h-14h
Flight to Aurangabad
14h-15h
Free time
15h-16h
16h-17h
17h-18h
Yoga , relaxation
Free time
Free time
Free time
Free time
Free time
Free time
18h-19h
Presentation
Yoga
Yoga
Yoga
Yoga
Yoga
Yoga
19h-20h
Diner
Diner
Diner
Diner
Diner
Diner
Diner
20h-20h45
Meditation
Meditation
Meditation
Meditation
Meditation
Diner
Meditation
Meditation
Meditation
20h45-21h45
Night
Night
Night
Night
Night
Meditation
Night
Night
Night
21h45-22h00
Night
22h00
The organisers of Yogatra:
Althéa Travel:
Althéa voyages is found with the collaboration of Séverine, 20 years of experience in tourism and creator of the Houseboat Althéa and Paola, 28 years in tourism, NLP Practitioner and Individual Coach; both passionate about the culture and the Travels!
They share their knowledge and skills, so the most beautiful trip can come in your way.
It is the travel agency that organizes the trip and will be in charge of reservations.
Akvin tourism:
We will be the receptive agency in India. We organise transportation, accommodation and visits.
Akvin tourism was found from the meeting between Akash and Vincent. The agency has developed around the idea of ​​sustainable tourism. This tourism is bringing an economic activity which preserves the cultures, the environment and the will of development of the premises.
If you want to know more click here.
Next departure:
The next Yogatra retreat will be from December 4 to 15, 2019. There are only 10 places available so it is best to book as soon as possible.
For the 11 days, the price is 1895 euros.
The price includes:
France-Aurangabad return flights
Accommodation in a hotel away from the city
Transportation
Entrance fees of all visiting monuments
Full buffet with vegetarian and vegan option
Yoga/meditation classes
Guided tours
Price does not include:
Visa
Alcoholic drinks
Tips
If you want to know more about Yogatra you can contact:
Althea Travel: pz@althea-voyages.com or 06.03.78.14.38